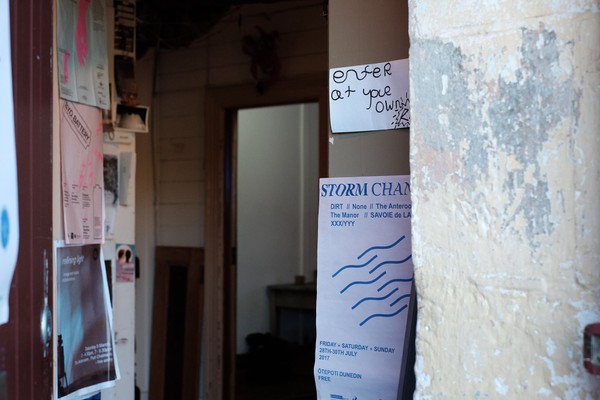 Storm Channels was a series of events held throughout six Dunedin Artist-Run Initiatives (ARIs) from the 28 – 30th of July, 2017. Storm Channels was co-organised in partnership between  The Aotearoa Digital Arts Network and Koputai Port Chalmers ARI The Anteroom. Storm Channels was an event in celebration of the dedicated community and history of independent practitioners working in self-run spaces.
Over three days, Storm Channels was realised in seven projects from Savoie de LACY, None, DIRT, XXX/YYY, The Anteroom and The Manor. Each ARI brings their own network of national and international artists, curators and writers that together form a diverse, fluid and gritty base for critical discussion. Each project brings an autonomous inquiry that ranges from electroacoustic & close listening sessions to a club night. A DIY electronics workshop, an optimistic installation and a sound performance that marks the beginning of a reverberant architectural loop. A loop that also extends to a surveillance intervention. Questions continue to be asked through an exhibition addressing concepts of work alongside contemporary poetry and another that sets to challenge notions of ownership.
In a culture of digital and online ubiquity, Storm Channels responds by rethinking the importance of small-scale physical spaces in a globalised world, to support the collective of local ARIs where a common thread is resource-sharing and collaboration. Storm Channels recognises the significant history of ARIs in Dunedin, that come and go, yet leave an impact to support future generations of artists in the city and abroad.
Members of the public are invited to the entire three-day event, free of charge, spanning six ARIs, showcasing the enriched and engaged community operating, on their own terms, independent of an agenda besides a sense of urgency for art to happen.
Storm Channels was supported by Creative New Zealand, The Dunedin City Council and New New New.
For more visit:
Photos: Jon Keyzer
Video: Liam Hoffman